Yet another Sunday dish we are fond of here is roasted rack of pork. The real secret to this dish is getting the right cut of meat. You want the part cut from the loin rib section with the bone. Here is picture of a raw cut: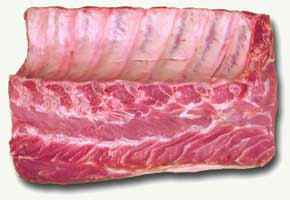 This meat is delicious. You will never believe how tender it is. There are those who will brine this cut and there is nothing wrong with it, but in my opinion it isn't needed.
1 4lb rack of pork.
2 cups Bourbon which in other words means Jack Daniels. 🙂
3 1/2 cups chicken stock.
2 tablespoons unsalted butter.
2 tablespoons fresh minced parsley
Kosher salt and fresh ground pepper.
2-3 tablespoons Canola or vegetable oil.
Preheat oven to 425.
Generously salt and pepper the rack on all sides. In a large skillet (I use my cast iron skillet as it is perfect for this recipe), heat the oil to medium high heat.
Sear the rack on all sides, about 2-3 minutes per side. The searing helps hold in the juices.
Place into the oven with a meat thermometer until the temperature reaches 145, about 30-40 minutes.
Remove skillet from oven and remove roast to rest. This is a key moment. You MUST let this roast rest. Even though the next step takes 15-20 minutes, do not worry. The roast will not get cold and the meat will continue to cook until it is about medium. DO NOT cut the meat yet.
Drain any grease/oil from your skillet but don't go crazy. Just empty it but don't wipe it down. BEFORE you put the skillet on the stove, CAREFULLY add the bourbon. Do not add the bourbon from the bottle, use a measuring cup. If the spirit should catch on fire while your holding the bottle, you have just created a Molotov cocktail! After you add the bourbon, return the skillet to the stove. Some people here will light the bourbon on fire and cook off the alcohol, but unless your sure of the safety, I would not recommend it. There is a lot of alcohol in there and it will burn for a bit.
Cook this down on high until there is almost nothing left and then add the chicken stock. Continue to cook on high for another 10-15 minutes until there is a sauce consistency. Turn off the stove and add the butter and stir until melted. Add the parsley at the end.
Cut the rack of pork into individual chops, and add a couple spoonfuls of the pan sauce to each. Serve immediately!