A couple of Christmas's ago my girlfriend bought me a rotisserie made by Ronco. I always wanted to try one of these, so I cooked up a couple chickens, roasts, and kabobs. I was shocked how well this thing worked. There was only one problem, it was too small.
My parents last year gave me the larger model which is the Showtime Rotisserie ST4000. This was much better because I was getting tired of trying to find a chicken weighing 3 pounds or less to cook. The only thing missing from this model is a temperature control, which other models have.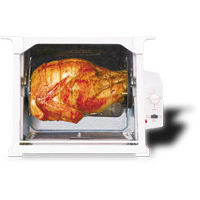 This machine is great, which is saying something because most things that are "As Seen on T.V." fall short of their claims. For cooking poultry and roasts, it is perfect. At least twice a month I cook a chicken on the machine. I occasionally cook a duck and other fowl too. By far my favorite dish to cook in the rotisserie is a standing rib roast. If prepared correctly, the roast comes out crunchy and spicy on the outside, and tender and juicy on the inside. I usually made up a rub consisting of a lot of course salt, garlic powder, and onion powder and rub it all over the meat and then as the commercial says "set it, and forget it".
I have had skeptical friends come over and try this and are just amazed. As far as I am concerned, this is the only way I am going to cook a standing rib roast from now on.
There are some things I just will not cook in the rotisserie. Steak for one just does not come out right for me in this thing. For one, part of the steak will just not get browned as well as the rest because it never sees the heating element. Second, the rack you put it in requires you to squeeze the steak into it otherwise it slides around. This, in my opinion, dries the steak out because it squeezes the juice out.
Kabobs came out OK, but honestly, they taste better on a grill.
Fish was no bad but got a bit dry. I only tried this once, and perhaps needed more practice.
Cleaning is pretty simple. I just throw all the parts used, into the dishwasher and they come out sparkling clean.
There are some things I think could be improved on this appliance. For one, all models should come with adjustable temperature control. It really is a must.
I think if the rotisserie wheel had a third connector down the middle, it would not be so difficult to secure meat. If you do not get the connectors through say a chicken right, it flops around a bit and stretches the bird.
The wheel squeaks loudly after about an hour of cooking. In the manual they recommend you put vegetable oil on the squeaky part. Really, for $150+ dollars, it should not require this.
In the end, I cannot imagine my kitchen without Ronco's Showtime Rotisserie.