This time a year we get friends and family dropping off venison almost weekly.  This is the epitome of local produce.  These deer were harvested within a 30 mile radius of our home.  When butchered properly, venison is a very tender, lean, and well tasting meat.   You may hear from time to time people talking about venison being gamey.  This usually only happens with poorly butchered meat where too much fat remains in the cut.  The fat on venison is not a good thing as compared to beef.
Most of the time we usually end up with stew meat as the hunter rarely lets go of the steaks or roasts.  This meat however, is not just good for stew, it can be used in a number of ways.  Here is a recipe I came up with tonight which may change the way some have thought of venison in the past.
My inspiration for this dish is from Asian sweet and sour recipes, but I cut a lot of that out and just kept the savory aspects.  This dish can be served over rice, or egg noodles.  I usually find that green beans go well with this, and in the picture below, I used roasted green beans with garlic and summer savory, a recipe I hope to include here soon.
Savory Asian Venison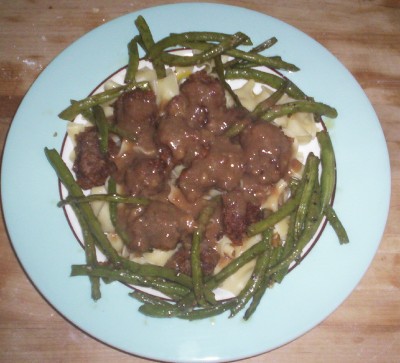 – (More…)