This time a year we get friends and family dropping off venison almost weekly.  This is the epitome of local produce.  These deer were harvested within a 30 mile radius of our home.  When butchered properly, venison is a very tender, lean, and well tasting meat.   You may hear from time to time people talking about venison being gamey.  This usually only happens with poorly butchered meat where too much fat remains in the cut.  The fat on venison is not a good thing as compared to beef.
Most of the time we usually end up with stew meat as the hunter rarely lets go of the steaks or roasts.  This meat however, is not just good for stew, it can be used in a number of ways.  Here is a recipe I came up with tonight which may change the way some have thought of venison in the past.
My inspiration for this dish is from Asian sweet and sour recipes, but I cut a lot of that out and just kept the savory aspects.  This dish can be served over rice, or egg noodles.  I usually find that green beans go well with this, and in the picture below, I used roasted green beans with garlic and summer savory, a recipe I hope to include here soon.
Savory Asian Venison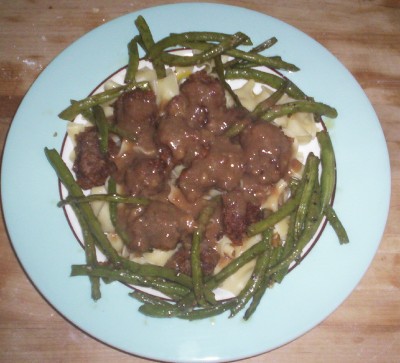 4.0
35

Ingredients:
About 1 pound of venison cut into 1 inch or so cubes.
2/3 cup of soy sauce (low sodium is better).
1 tablespoon minced garlic.
1 tablespoon grated ginger root.
1/4 cup flour.
1/4 cup corn starch.
1/2 cup flour.
2 tablespoons flour.
2 cups or so of beef broth.
Canola oil.
Salt and pepper.
In a medium size bowl, mixed together the soy sauce, garlic, ginger, 1/4 flour, and corn starch.  Whisk until blended.  Liberally salt and pepper the venison on both sides.  Add the venison to the bowl and toss until all pieces are coated and refrigerate for 1 hour.
Remove from the fridge, drain the marinade making sure all the excess marinade is removed from the venison pieces.  Place in a large bowl.
Add salt and pepper to the 1/2 cup of flour to taste, and coat the venison.  What I usually do is sift a bit of it over the meat, fold it in a few times, then repeat until I think they are floured enough.
You want about an inch of Canola oil in your skillet.  Heat to medium high.  Add the meat in batches and brown on all sides (gently turn the meat).  Each batch will probably take about 3-4 minutes.  You want the meat to be medium rare to rare, as it will cook a little after you remove it.  Remove to a plate covered with paper towels and tent with foil to keep it warm.
Strain all of oil from the skillet EXCEPT for about 2 tablespoons.  With a wooden spoon, stir in the remaining flour until the rue is brown and bubbly, about 2 minutes.  Add the beef stock to the pan and bring to a boil.  This will be the gravy, so if it is too thin, sprinkle in flour, too thick add more broth.  Cook for 2-3 minutes.  Pour over then venison when it is served.