My family and I just returned from our vacation in Boonville New York, deep in the heart of the Adirondacks. This is Black River Valley country and the home of my birth. Most of my family (on both sides) reside in the region and whenever I get a chance, I take the three hour trek upstate.
Last year about this time, my wife (fiance at the time) and I were up there getting ready to be married. The ceremony took place at my aunt Marjorie's summer home that we like to call the riverhouse. It is a small camp style home resting right on top of the black river. In fact, you could sit on the back deck and cast a fishing line into the water if you wanted to. It is a perfect location and for those looking for rest and relaxation, the riverhouse is where you can find it.
We decided to spend another week there this year as my aunt invited us to stay there. After such a crazy year, it was a godsend. Nice warm days where the kids could play in the river, roam the shaded woods, or just look for childhood trouble were abundant. The nights were cool, but not cold, and usually we enjoyed a campfire outside and/or a fire on the hearth inside.
We entertained a few times while at the riverhouse. We had my aunt and her husband John over for a wonderful lamb dinner on our second night. We also had her daughter and grandchildren there on the same night. We made mustard crusted rack of lamb (three of them actually) from an Emeril recipe that is to die for. Just a note, for those who want to try this recipe, please, use a meat thermometer, Emerils' cooking times are way off. Even the comments on the recipe page reflect this. We had garlic and rosemary grilled baby potatoes with it, along with some corn and green beans. Here is a pic of the platter: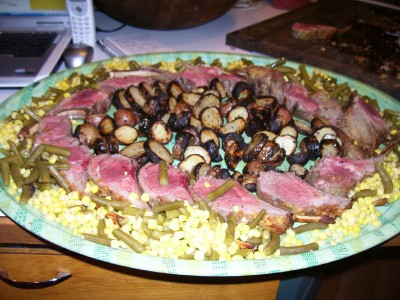 We also entertained my best man, his wife, and their children on our fourth night. Seeing as how there were so many kids, I figured my "famous" meatloaf was in order. No bones, nothing that kids would be scared of (like lobster 🙂 ), just plain simple meatloaf.
My aunt Ina and her fiance chip also stopped over one night for drinks and chit chat. They were married that Saturday. All of us had a great time at their wedding and are hoping that she and chip are having fun on their honeymoon in Maine!
The largest kudos have to go out to my Aunt Marjorie and her husband John. Without these two, this vacation would not have been possible. John is an artist and has been for many years. My aunt has a knack for being able to take the most expensive home, or the most dilapidated hovel, and with some cunning decorating, make it feel warm and relaxing. Between the two of them, they made this once humdrum camp feel like one of those Adirondack mansions you always hear about.
Their generosity in letting us stay there will never be forgotten by us. They already have us making plans for next years stop there.
Our first vacation was a hit, and we would like to thank everyone from home for making it that way!