OK, it is finally Monday, two days after our St. Patty's Day party 2007 at Roses Tavern in Modena N.Y.! I would have wrote this up yesterday, but let us just say that the party went so well, I was a bit immobilized the next day. 🙂
I began the preparation on Thurday by cooking up two cheesecakes, my Irish Baileys Strawberry Cheesecake to be precise. It is good to let this cake sit for 24-48 hours so it was the first thing I made. Here is a pic of one of them, and as you can tell, I rushed the icing, but I had a million things going on at that moment so you will have to forgive me. I also added dark chocolate shavings across the top. Mind you, I am no photographer, and this is the real pic, not one I pulled from a professional site: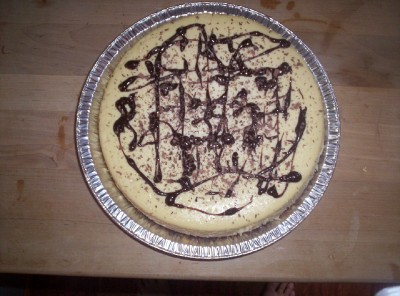 On the day of the party, at about 1 a.m. I put together my traditional corned beef and cabbage in two crockpots. Each pot had 1 1/2 flat cut briskets. These went together easy enough which is a big reason why I like that recipe. 🙂
At 8 a.m. I started my Beer and Irish Whiskey braised corned beef. This is a little more involved but I managed to cook 2 1/2 briskets in the roasting pan. The smell of caraway stole throughout the house and woke up the rest of the family (and a couple neighbors).
I do not have any pics of the corned beef's. The reason is basically that this party was scheduled to go from 2 p.m. until ?. This meant that the foods would be served buffet style in slow cookers to keep them warm and fresh. I finished the preparation at Roses Tavern and didn't bring my camera.
At around 10 a.m. I started the Irish Stew. It requires about 3 hours to cook and I timed it just right so the main courses and the stew would end at the same time.
Once the stew was percolating away, I started on the soda breads. I made one, and my wife made the other. What can you say about soda bread? It is easy, quick, rustic and tasty. I took a pic of my loaf here: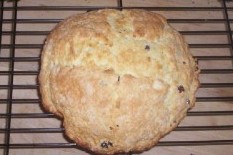 We loaded up the car throughout the day with all of our implements of digestion and brought them over to Roses and got set up. I brought over my large boom-box and then I took my laptop filled with traditional and new Irish music over. I was able to blue-tooth the music right to the box and it really set the tone.
After we got everything setup I announced to the full tavern that the food was ready and to dig in.
As for the reviews, my wife and I received many congrats on the food. Everyone almost without exception raved about the cheesecake. Considering I made my first one ever (from scratch) about 2 weeks ago, I was rather surprised. I am not much of a sweet eater, but I thought it was good when we made a test batch. There were a couple of cheesecake "experts" there that were shocked at my CK experience and yet still made this one.
I have several friends who show up on St. Patty's day just to eat my corned beef. Mind you, they are Irish themselves, and they say they like mine more than theirs. 🙂 That is something any cook loves to hear.
I was surprised how many people liked the soda bread. I thought it tasted just like every soda bread I have had, but a few people said it was the best they ever ate. I will take it. 🙂
The corned beef lasted until about 7 p.m. and the stew was almost gone by 10 p.m.. Many people seem to have a stigma about lamb but I did change a few minds when I "made" them try a little.
We went through both of the cheesecakes, in fact, I think someone actually wiped out the crumbs right on to their plates. That recipe is surely a keeper!
I cannot thank my friend Steve, the owner of Roses Tavern for letting me have the party there. This is the fourth year in a row we have had it at Roses and hope to continue it next year.
To everyone who made it, thanks for showing up and all of your kind words!